Der nächste Flusskommers findet am 12. August 2023 statt
2022 Jahr feierte die AV Notkeriana die bereits 700-jährige Geschichte der Ausrichtung des traditionellen Flusskommerses. Stolz blicken wir in die Vergangenheit und führen bewährte Traditionen fort, ohne die Zukunft aus den Augen zu lassen. Wir laden alle Studenten von nah und fern dazu ein, auch nächstes Jahr diesen Tag gemeinsam mit uns zu feiern. Wenn auch Du mit uns anstossen willst, fülle bitte die Anmeldung am Ende dieser Seite aus.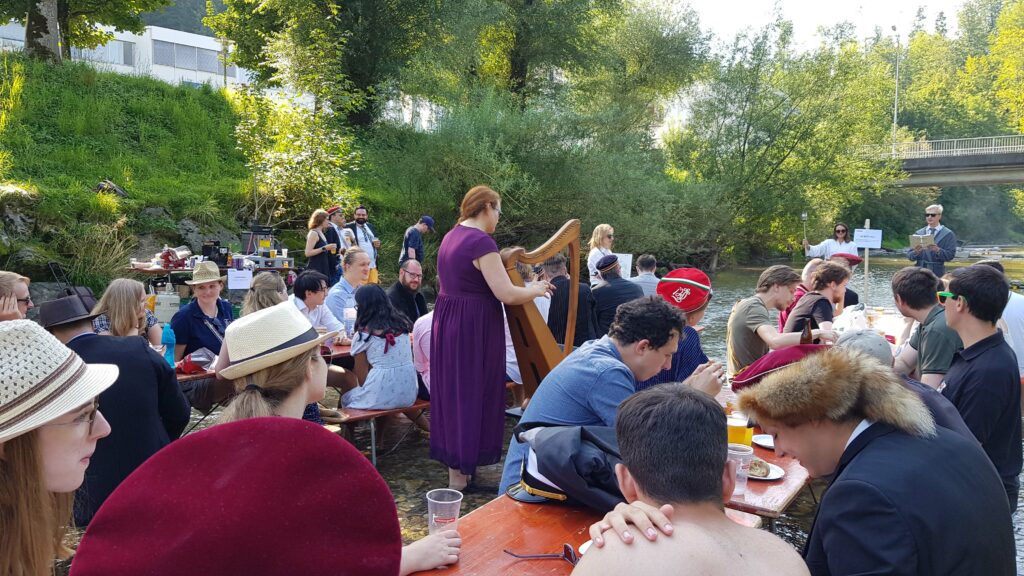 The traditional Flusskommers
Every summer, those in need of a drink travel to St.Gallen to commemorate the miracle at the Sitter. With food and drink, a festive "Kommers" takes place in the river in August, which is the culmination of the celebrations surrounding Notker Pressulus.
In my active time I have never missed a Flusskommers. I want it to stay that way!
Réception
Our Fuxen will be happy to welcome you with a smile upon your arrival and are available to answer any questions you may have. At the réception we offer, among other things, a disinfection service, the registration of greetings and the stamping of your river pass. Long-distance calls and faxes can only be made against prepayment.
Flussbar™
Rivershop
River Grill & Adventure Tap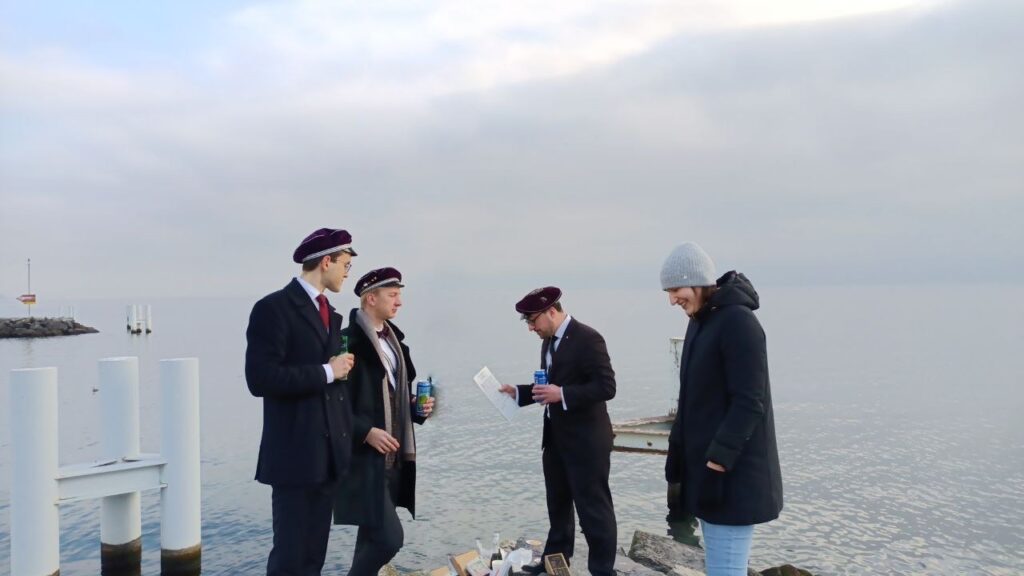 LE BUREAU
Le Bureau, BIERBAR or to be more precise le Bureau international pour l'exécution et la réalisation des bonnes activités récréatives is a Lausanne-based association dedicated to the implementation of the traditional river commemoration for the AV Notkeriana. After the traditional Flusskommers had been organized by members of the AV Notkeriana for almost 700 years and had become increasingly popular, the organisational effort exceeded the possibilities of the connection in the Gallus city and so the Bureau was born. Since then, the numerous members have dedicated themselves to preserving this Saint-Gallic heritage.
As Senior of AV Notkeriana, it is my pleasure to invite you to the 700th year of the traditional Flusskommers. With the great support of the bureau, we are allowed to set up our benches, tap the barrels and have a good time at the river bbq. Hospitality is very important to us and we would like to offer our friends from Far away only the best. In addition to a place to sleep (also for Fuxen), we offer all participants a high-quality supporting program consisting of city and pub tours as well as a hangover brunch. In order to meet our high quality demands, we ask that you register.
We are always happy to see new faces at our events. If you are interested, contact us via one of our social media channels or by e-mail.
flusskommers@notkeriana.ch
Michael Hochhauser v/o Aastand
flusskommers@notkeriana.ch
AV Notkeriana
9000 St. Gallen